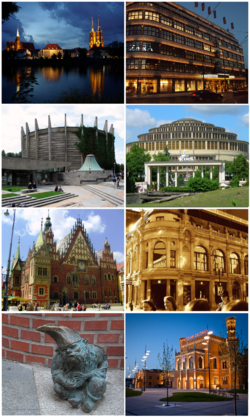 Wrocław (
/ˈvrɒtswəf/; Polish pronunciation: [ˈvrɔt​͡swaf] (
listen); German: Breslau [ˈbʁɛslaʊ̯] (
listen); Czech: Vratislav; Latin: Vratislavia / Wratislavia), situated on the River Oder (Polish: Odra) in Lower Silesia, is the largest city in western Poland.
Wrocław is the historical capital of Silesia, and today is the capital of the Lower Silesian Voivodeship. At various times it has been part of the Kingdom of Poland, Bohemia, the Austrian Empire, Prussia, and Germany; it has been part of Poland since 1945, as a result of border changes after World War II. Its population in 2011 is 631,235, making it the fourth largest city in Poland.
The city's name was first recorded as "Wrotizlava" in the chronicle of Thietmar of Merseburg, which mentions it as a seat of a newly installed bishopric in the context of the Congress of Gniezno. The first municipal seal stated Sigillum civitatis Wratislavie. A simplified name is given, in 1175, as Wrezlaw, Prezla or Breslaw. The Czech spelling was used in Latin documents as Wratislavia or Vratislavia. At that time, Prezla was used in Middle High German, which became Preßlau. In the middle of the 14th century the Early New High German (and later New High German) form of the name, Breslau, began to replace its earlier versions.
The city is traditionally believed to be named after Wrocisław or Vratislav, often believed to be Duke Vratislaus I of Bohemia. It is also possible that the city was named after the tribal duke of the Silesians or after an early ruler of the city called Vratislav.
The city's name in various other languages is: Hungarian: Boroszló, Czech: Vratislav or Wrocław, Hebrew: ורוצלב (Vrotsláv), Yiddish: ברעסלוי (Brasloi), Silesian German: Brassel, and Latin: Vratislavia or Budorgis[2] or Wratislavia [3] The city's name in other languages is available at the list of names of European cities.
(source: Wikipedia)
Now it is one of the most beautifull cities in Europe, full of attractions and friendly people, one of the most important destinations for tourists from all over the world.